"The Interview" Keeps Austin and America Weird
Austin, Texas (CNN) — Most Americans are probably familiar with the T-Shirt slogan "Keep Austin Weird." Ever since Willie Nelson brought rednecks into an alliance with hippies back in the psychedelic '70s, Austin has milked its quirky libertarian spirit for a worldwide bonanza of free publicity. Both South by Southwest and "Austin City Limits" were born in the cradle of this stoner plea. But in recent years, the Texas capital has become corporatized, the weirdness factor replaced by Starbucks, Marriott and Chase Bank.
Yet, on Christmas Day, at the downtown Alamo Drafthouse Cinema at the corner of East Sixth and Trinity, vintage Austin weirdness came roaring back courtesy of the banned-in-Pyongyang film comedy, "The Interview," starring Seth Rogen and James Franco.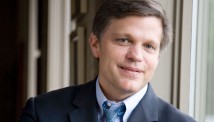 Opinion by Douglas Brinkley, CNN
The Merry Prankster of the 1 p.m. showing was Tim League, a 45-year-old Rice University graduate and CEO of the Alamo. Wearing a rented star-spangled body suit, looking like the poor man's Evel Knievel, a Santa Claus cap festooned to his head, League orchestrated a piece of guerrilla theatrics that would have made Ken Kesey proud.
Striding onto the stage with James Brown's "Living in America" blaring from the speaker system, League introduced the bizarrely controversial "The Interview" with a stand-up comedy routine replete with unabashed patriotism, rank silliness, vaudeville shtick and Yippie absurdity.
Since the mid-1990s, League, a smart businessman-cum-showman, has helped transform Austin from a cinema backwater to an outlaw Hollywood hub. Determined to put the weird back into Austin's civic spirit, League spoofed North Korea's damaging cyberattack against Sony with Comedy Central aplomb.